Hi all!
So today I was lucky enough to have a sneak peek at the new Dior perfume which will be releasing towards the end of August! I cannot tell you how excited I am for its release, in a nutshell its....AMAZING!!!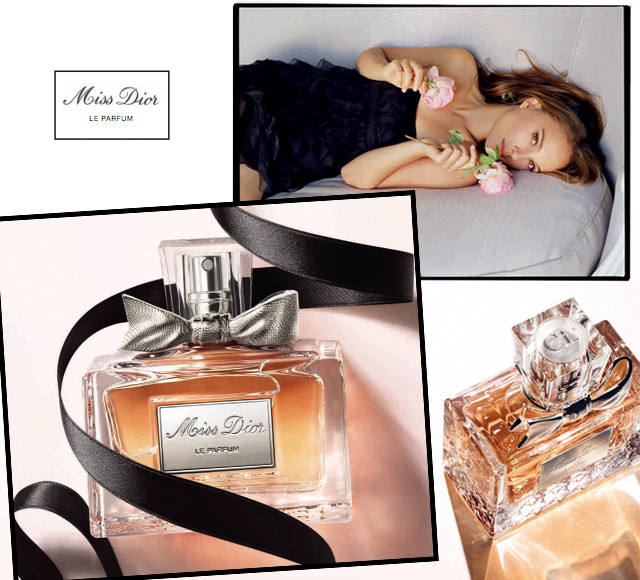 The fragrance will be called Miss Dior Le Parfum, and from the information I managed to find it is a rewriting of the original Miss Dior which has been transformed into something intense yet delicate. It is a floral symphony with notes of rose absolute, vanilla, Mandarin and amber.
This fragrance is a intense Eau de Parfum, essentially similar to a pure perfume which means it has excellent lasting power and will linger for absolutely ages! And as a result it will come in a 40ml bottle the price tag of which reflects both its name and nature. This perfume wonder will retail for £62.99! Expensive...yes, but worth it...100%!
Also as you can see from the picture the bottle is in the same style as the other Miss Dior fragrances however there are a few differences. The liquid inside the bottle for one is a darker colour probably because its an intense perfume. Also there is a silver plaque with the name embossed on it, and it has a lovely metal bow in the lid. Its beautiful!
Having smelt it I have to say it is such a classic scent, very powerful but not so that it gives you a headache. Its in stark contrast to the barrage of 'young' scents which have been released in recent years, I'm thinking Lady Million, Escada, Gucci Guilty etc. but its not to say I don't like these fragrances because I do but the Dior really is in a league of its own. It is grown up, sophisticated and it reminds me of a strong Arabic scent, which if you've smelt any you'll know are very unique and powerful. I have to say I haven't fallen in love with a perfume like I have with this in a long time.
I really cant say enough good things about this fragrance and I really want to have it now! But I guess another few weeks won't hurt. And all I can say to you all is...go and try it when it releases, and then you'll know what I mean. After all its not described as a Couture perfume for no reason
So are you as excited as I am??
Don't forget to comment and subscribe
Until next time...keep smiling :-)