Hi all!
Today I wanted to talk to you all about my most loved Fashion Week...Paris Fashion Week of course darling! I feel that designers go all out in Paris, I mean it is the fashion capital of the world so I guess it's a given. And this year Paris didn't fail to deliver. I looked through the many many images and here are 3 of my favorite shows this season....
Alexander McQueen
I have always loved the design spectacle that is Alexander McQueen...it is avant garde...it is chic....it is blooming amazing!! I can carry on with the adjectives..however me thinks I should stop now otherwise this will be a very lengthy blog post! ;-)

Love the tough warrior look with the girly edge...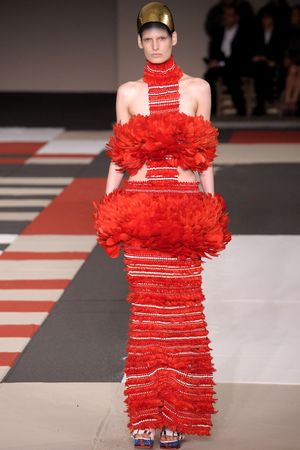 I mean you can't not like these incredible designs...they may not all be very wearable but they are art in my eyes.
Louis Vuitton
Marc Jacobs can do no wrong when it comes to beautiful designs. One of my all time fav shows was the Spring 2012 Carousel fashion show...I mean that was incredible!!
Now sadly after many successful years as Creative Director this was Mr Jacobs curtain call!! :-( However he did very well and the show was incredible...a visual extravaganza!
Looks like black is making a return then...
And there he is..the man of the hour....bravo Mr Jacobs...bravo!
Elie Saab
Now I couldn't do this post without mentioning this brilliant designer.
I'm sure you will agree that the clothes from Elie Saab are all absolutely stunning. They are so feminine and beautifully designed and the work that goes into the pieces is mind blowing...I adore the attention to every detail.
Love, love, love everything from this designing house!!!
Well....there you have it folks. What do you guys think? Did you like these designers, and who were your favourites?
And of course don't forget to enter my Giveaway...just click
here
to enter...you have a few days left!!

Don't forget to comment and subscribe
Until next time...keep smiling :-)