Hi all!
So I'm a bit late putting this up but I wanted to share my favs of last month. These are the things I've really been loving, some new finds, some old favs and some non-beauty related stuff too!
First up is Neutrogena deep clean invigorating face wash...that's a mouthful. lol. I love this stuff! I have the worlds most sensitive skin and at the moment it's dry and dehydrated and prone to blemishes...that's a very bad combination. I rarely find cleansers that work with my skin but this does, it gives a deep clean and is still gentle and doesn't dry out my face. I would highly recommend this.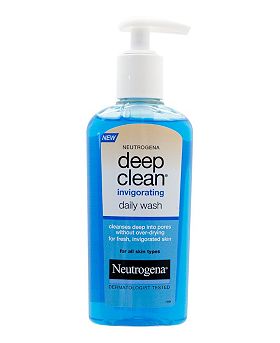 Next it's my Decleor cleansing water, again great for sensitive skin to calm it down. I spoke more about this in my Winter Skin Saviours post (
click here
)
Make-up wise I have been using Max Factor miracle touch foundation pretty much all month, it's just fool proof. It's quick and easy to use, gives great coverage and a great finish, what more could you want!
I have a love hate relationship with Mac studio finish concealer, on the one hand it has fantastic coverage for my horrible dark circles but then on the other hand...it creases like heck! But having said that this month I have been using a new pot and a new colour and it really seems to be working for me. I would recommend using a moisturising eye cream before applying this.
I have been loving the look of my lashes with the Dior show iconic mascara, it's on it's last legs and before I didn't mind as I wasn't getting great lashes from it, but this month for some reason it's really been working wonders. I've noticed a difference in my lashes and people have been complimenting them...which makes me sad it's almost finished. :-(
This a relatively new product from Bourjois, its the effect smoky eyeliner, It's a soft glittery eyeliner and looks great blended on the lash line, top and bottom, and in the water line. It has a subtle sparkle and look great on the eyes. When I'm in a hurry I wear this and mascara and I'm good to go.
Onto non-beauty related favs, I have been hooked on the latest series of America's Next Top Model this month! I love this show, the pictures, the make-overs, the cat fights...it all makes for great T.V! I won't give anything away but you have to watch it if you love fashion, pretty pictures with some back stabbing for good measure! lol
Finally I have been gorging on sugary cola sweets, I am hooked on this stuff. I mean I eat a lot of sweets anyway, and before you say it I know its not good for me, but these have been a permanent fixture in my bag this month. All the sweet lovers will know what I'm on about. ;-)
Have any of these been your favs this month? If not what were you loving in January?
Don't forget to comment and subscribe xx
Till next time...keep smiling :-)