Hi all!
So as you may be aware a few days ago we had two major red carpet events, one being the prestigious BAFTA ceremony in London and second the cool Grammy awards in LA. So I thought I'd share some red carpet pics of the stars and let you know what I thought. Enjoy! :-)
BAFTAs
I have to say I was quite underwhelmed by the fashion at the BAFTAs this year, now I know it's dull and cold in England but that's no excuse, its an awards show after all! I really wanted to see fabulous dresses every where but alas there weren't that many. But there were some good outfits in the mix, my favourites were as follows...
Michelle Williams
I love Michelle Williams style, she's always so cute and wears a lot of vintage inspired looks which suit her well, especially with the pixi cut. Also Michelle isnt one to follow what everyone else is wearing or doing! I loved the simplicity of her dress and the quirky clutch she was carrying...it's a book! And the dress was made by...wait for it....H&M!!!! She wore a high-street dress, mind you it was customised for her but I think she deserves kudos for doing something a bit different.
Melissa George
Melissa just oozes glamour and she's gorgeous so anything would look great on her. I loved this Victoria Beckham dress it looked amazing, it fit her so well and the fabric is such that it hangs beautifully. Also her hair and make-up were just right to compliment the dress.
Merly Streep
Merly Streep is the lady of the moment winning awards all over the place for her amazing role as Margaret Thatcher in The Iron Lady. She looked especially stunning in her Vivienne Westwood gown (a British nod to her role), can't wait to see what she wears next.
Penelope Cruz
Penelope Cruz added some much needed colour to the red carpet in her her custom Armani Prive gown with chopard jewellery. I love the colour on her and the unusual top half of her gown.
Grammy Awards
Now the Grammy's is infamous for its red carpet and what celebs will wear, this is the time to take a risk and be creative and 'out there'. You can always guarantee the red carpet will be fun and unpredictable think lady gaga in the egg! It never disappoints in the entertainment department but i think some celebs take personal style a bit too far, as you will see.
Taylor Swift
Taylor wore a Zuhair Murad gown which is beautiful, the colour is amazing on her and I love the detail on the embroidery. She looked very pretty.
Adele
Adele generally sticks to the same style, which is fine because it looks great on her but at the Grammys she changed it up a bit. She debuted blonder hair which looks amazing on her and I loved her gown designed by Giorgio Armani. I think the whole look was stunning, the hair, make-up and dress suited her perfectly, and she sparkled like a star while picking up her 6 Garmmys!!! Well done!
Gwyneth Paltrow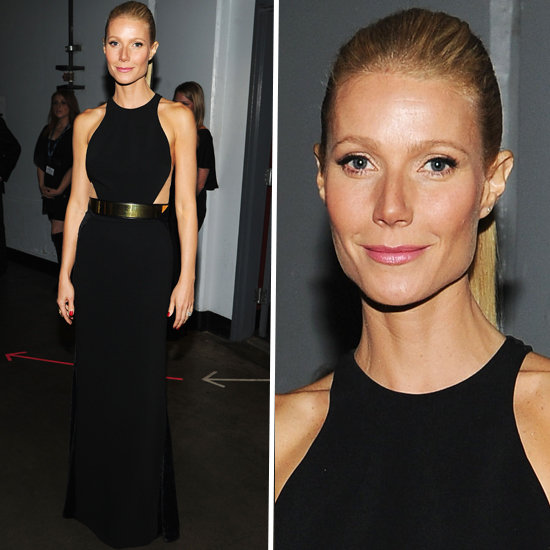 Gwyneth looked chic as always in her Stella McCartney gown, she kept it simple with the hair and make-up but still looked amazing. I guess there's a reason she's an A-List celeb (aside from the acting! lol).
Now...you cant have the good without the bad and let me say there were a few questionable fashion choices, I'll show you what I mean and you can judge for yourself.
Fergie
Fergie wore Jean Paul Gaultier, and I really don't like it, I think it's the neon orange that just screams out at me. Now I know it's haute couture and it's meant to be very artistic and fashion forward but it would have looked soo much better in black or a darker colour, don't you think?
Nicki Minaj
Now I really don't know what to say about Nicki Minaj and this Armani cloak. Lets just say that she wanted to cause controversy and she did!
Lady Gaga
I had to have a picture of her, it wouldn't be crazy fashion without Lady Gaga. She didn't walk the red carpet but she was at the event in her custom Versace dress thing! Sheer madness! lol
Now there were a lot more pictures but this post would be really long if I included everyone! lol. I hope you enjoyed my red carpet round-up, do let me know what your thoughts on the fashion!!
Don't forget to comment and subscribe
Until next time..keep smiling :-)