Hi all!
Looks like I've been unwittingly bit by the fashion bug and I have another fashion week post for all you lovely people. Of course this is about London Fashion Week and I knew I had to write about it for all the fashionistas out there! lol
So London Fashion Week finished a few days ago and I wanted to wait till the end to blog about it. I thought rather than talk about every show I would blog about my favourites and show you guys some pretty pictures too. :-) So I spent ages looking through pictures and videos and there were some stand out winners and some fabulous clothes, so sit back, relax put some heels on and enjoy darlings! HeHe.
PPQ
PPQ is known for being fun and young but this show was more sophisticated and grown up. There were thick wool and tweed coats one one side and then on the other the evening dresses were very floaty and beautifully draped.
I can definitely see the celebs wearing these dresses they are so pretty and flow so beautifully, they are stand out pieces.
Temperly London
As a Middleton favourite I was really looking forward to what they would come up with and they did not disappoint. The show was inspired my 18th century religious paintings and tapestries and it was stunning! There were feminine embellished dresses and Cossack-inspired head wear.
The clothes have great structure and are so elegant and feminine, anyone could wear these and feel like royalty!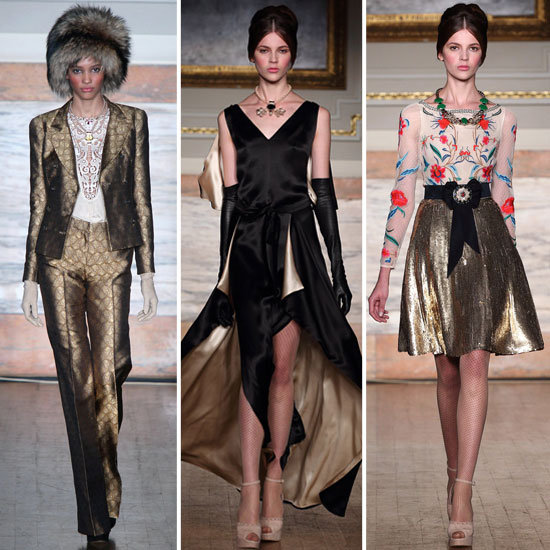 Matthew Williamson
Matthew Williamson celebrated 15 years of his label at fashion week and showcased dresses with his signature print work. There was a mix of tailored trousers and light dresses which floated down the catwalk.
What I really enjoyed about this collection was the injection of colour because after all this is an autumn/winter collection but its so bright and eye-catching and I have to say I adore the print work!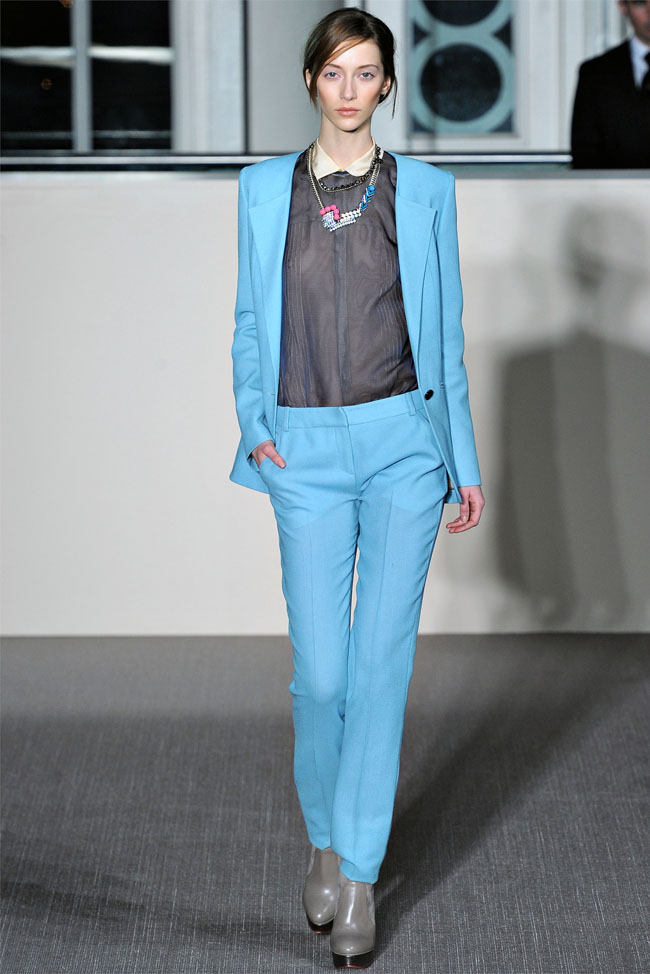 Burberry Prorsum
This show was one which attracted all the big names and why not, this brand has become one of Britain's biggest fashion houses, and undoubtedly a fashion force to be reckoned with! There was a country inspiration behind the designs, with tweed coats and jackets with traditional Burberry material.
The clothes are so effortlessly chic and cool, its the kind of style you want to wear but are worried you cant pull off! lol The ending of the show was the best bit, it had all the models holding umbrellas as confetti fell to the soundtrack of thunder and rain...loved that!
McQ Alexander McQueen
This was the debut fashion show of McQueen's secondary line McQ and of course it had to be done on British soil. I absolutely love Alexander McQueen, the avant garde style the colours the cuts...the clothes are art! The shows are always so theatrical and just an amazing spectacle to behold, I have to say this was my favourite show! It was like you were in a forest with the feel of the show and the autumn leaves on the floor.
There was a mix of military coats and stunning ball gowns on the catwalk both beautifully created by Sarah Burton, well done to her! I really do love everything I have seen from the range and this is a great fashion house which has had well deserved success around the world and I'm sure this collection will be a hit too. :-)
What do you guys think of the shows that I chose, do you like them too? I would love to hear what you all think, do let me know. :-)
Don't forget to comment and subscribe
Until next time...keep smiling :-)